Christmas is a time for family, friends, gifts and fun. But it is also a time when our use of plastic tends to get a bit out of control. Whether that's through our choice of presents, our decorations, or the wrapping paper we use, come December 26th, a lot of plastic is heading for landfill.
Waste and Resources Action Programme estimates that in England, five extra black bags of rubbish will be thrown away per household over Christmas.
At Eradicate Plastic, we don't want to ruin the festive fun for you. But there are simple measures you can put in place this year to make sure you enjoy all of the fun of Christmas, without as much of the junk.
1. Ditch the tinsel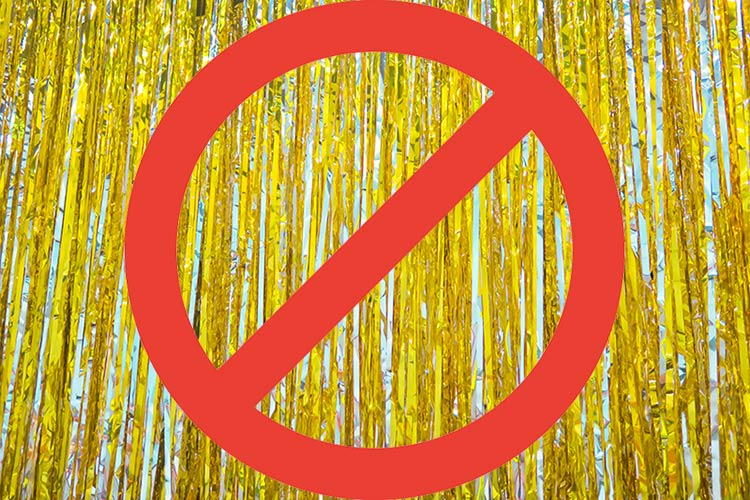 Tinsel: sparkly, twinkly, colourful, unrecyclable.
Tinsel might look nice, but the only place it ever ends up is landfill, and even tinsel can't make a landfill look attractive.
Instead of plastic decorations, why not opt for natural alternatives? Take a look at our Pinterest board, which is full of ideas on natural Christmas decorations. Click on a picture to be taken to the instructions for how to make it! https://www.pinterest.co.uk/eradicateplastic/natural-christmas-decorations/
2. Wrap your presents in recycled paper
Whether or not wrapping paper can be recycled depends on where you live, as well as the type of paper you've used. Wrapping paper can often contain additives such as glitter and plastic, which can make it unsuitable for recycling. If you're unsure whether a particular roll of wrapping paper can be recycled, do the scrunch test!
To be on the safe side, and ensure your wrapping paper doesn't end up in landfill, why not opt for recycled wrapping paper instead? Googling 'recycled wrapping paper' will give you plenty of options to choose from.
3. Choose plastic-free presents
I know, I know, this is easier said than done. Our shops are awash with products that contain, or are wrapped in, plastic.
But plastic-free products are out there if you look hard enough. Take a look at the Marine Conservation Society shop, which stocks products to help people reduce the amount of plastic they use, including water bottles, coffee cups and books on how to live a plastic-free life. The money you spent in their shop goes towards helping a fantastic cause.
Alternatively, why not buy an experience for somebody, rather than an object. A ticket to a concert, a meal out, or a spa day.
Buying plastic-free presents for children can be tricky, as they are so drawn to bright, shiny plastic things. Why not get them a good book instead, or something made from wood? Or you could even get them something from a charity shop. Mass consumerism has convinced us that we must buy brand new items or the recipient will be disappointed; don't believe it! Remember: recycle, reuse, reduce.
4. Make your own Christmas crackers
Christmas just wouldn't be the same without the Christmas cracker. Who doesn't love a bad joke, a silly hat and a little gift? Unfortunately, the gift is often made of plastic and is rarely ever used, and so goes straight into the bin.
This year, why not try making your own crackers? It's easier than you think and means you won't be left with plastic shrapnel. Take a look at the Crafty Little Bugs website, where you'll find lots of different options for more environmentally friendly crackers.
5. Be mindful when shopping for food
Christmas dinners, parties, mince pies – Christmas has long been associated with the consumption of lots of tasty food. Unfortunately, lots of this tasty food comes wrapped in unnecessary plastic packaging.
Here are some tips to help you avoid taking home excess plastic from the shops:
Instead of buying mince pies, canopies, dips, and other Christmas food from the supermarket, why not have a go at making your own? BBC Good Food has some great recipes for Christmas nibbles.
Remember to bring your own shopping bags when doing the 'big shop', to avoid taking home your own body weight in plastic carrier bags.
Try to choose loose fruit and vegetables, rather than those wrapped in plastic. You might have better luck at your local greengrocers, or farmers market.
6. Step up your recycling game.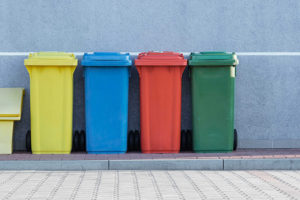 When it comes to recycling, there is still a lot of confusion out there. Which is understandable when you consider there are different rules depending on which part of the world, or which part of a country, you are from.
If you're from the UK:
In the UK, your best source of information is www.recyclenow.com. Some useful pages include:
If you're from the United States:
To learn about what types of material can be recycled in the US, head to the website of the Environmental Protection Agency (EPA). Some useful pages include:
7. Buy plastic-free Christmas cards
Christmas cards often come wrapped in protective plastic sleeves. The good news is that these sleeves are usually made from polypropylene, which means they can be recycled.
Regardless, these plastic sleeves just add to the amount of plastic in circulation, and they are unnecessary.
Try to bulk-buy your Christmas cards, and take home as little plastic as possible. And if you do end up taking home plastic, remember to recycle it.
8. Get a real Christmas Tree
Opting for a real Christmas tree instead of a synthetic one is the most environmentally friendly option. Make sure any tree you buy is FSC certified, meaning they are grown in an ethical and sustainable way.
Learn about recycling a real Christmas tree by visiting www.recyclenow.com
If you already own a synthetic Christmas tree, continue to use it for as long as possible! What we want to avoid is plastic Christmas trees ending up in landfill.